16th Karmapa Rangjung Rigpe Dorje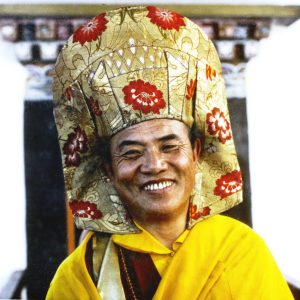 H.H. the 16th Karmapa Rangjung Rigpe Dorje (1924 -1981) was born in Derge province in Eastern Tibet. The previous Karmapa Khakhyab Dorje (1871-1922) left a letter setting forth the circumstances of his next incarnation. Based on this letter the authorities of the Tsurphu monastery were able to successfully locate the child.
In 1931 the young Karmapa was ordained as a novice monk and offered the Karmapa's ceremonial robes and the Black Hat. Karmapa studied in Tsurphu monastery, the traditional seat of the Karmapas, for four years, deepening his meditative realization of Sutra, Tantra, Mahamudra, and the "Six Yogas of Naropa". As a boy he displayed an extraordinary natural insight and often told his teachers about his previous incarnations.
At the age of 23 Karmapa received his final ordination, along with the initiations and explanations of the highest Karma Kagyu teachings. In 1959, due to the occupation of Tibet, Karmapa decided to flee his country, realizing that the cause of the Dharma would be served best by escaping the ever-tightening grip of Communist China. Accordingly, accompanied by an entourage of 160 lamas, monks and laymen, Karmapa left Tsurphu monastery and proceeded towards Bhutan. Under Karmapa's guidance the party was able to take along the most precious statues, ritual items, relics, scroll paintings and books, which had been preserved at Tsurphu monastery over the centuries.
The ruler of Sikkim offered the Karmapa land where he established Rumtek monastery, which became Karmapa's official seat outside Tibet and a centre of Buddhist study, ritual, and practice.
In 1974 the 16th Karmapa led a party of Karma Kagyu lamas to the West, visiting Europe, America and Canada. In London Karmapa was hosted by Chime Rinpoche and performed the Black Crown Ceremony at the Friends Meeting House on Euston Road. In Copenhagen, he was hosted by his first Western disciples Ole and Hannah Nydahl.
In late 1976, Karmapa toured through the USA, and in the following year he spent six months in Europe. While in the United Kingdom he visited London and Manchester. In May of 1980, Karmapa made his final visit to the West. On his way to the USA, he stopped in London and performed the Black Crown Ceremony in Shepperton, on the River Thames South-West of London. The 16th Karmapa passed away on 5 November 1981 in a hospital near Chicago.