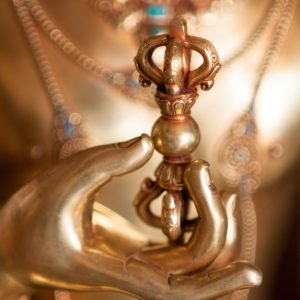 Diamond Way Buddhism is an international network of lay Buddhist centres and groups. These are places where people can encounter authentic teachings and meditation methods of the Karma Kagyu lineage of Tibetan Buddhism. These centres have been established since the 1970s by Lama Ole Nydahl, one of the few qualified Western masters in the Karma Kagyu lineage, together with his wife Hannah. Their main teacher, the 16th Karmapa asked them to start Buddhist centres in the West in his name.
"Diamond Way" is a translation of "Vajrayana", a Sanskrit word denoting the highest and most direct level of Buddha's teachings. "Vajra" means indestructible, in Tibetan it is "Dorje" (literally "king of stones" i.e., the diamond). It symbolises the unborn and naturally radiant qualities of awareness. Confidence in this indestructible essence (known as "Buddha nature") is the foundation of practice in the Diamond Way. Through meditation and integrating the Buddhist view into daily life, its practitioners can discover and develop their inherent potential for the benefit of all beings.
Diamond Way Buddhism offers these traditional practices and philosophy in a contemporary, accessible context. For example, most meditation practices are presented in English. Focusing on the essence of Buddhism rather than its cultural elements provides people in the West a good opportunity to clearly understand and benefit from them.
Diamond Way Buddhist centres are run on a voluntary basis and supported mainly by donations from membership and events. They may be located in premises dedicated entirely to Buddhist activity, rooms in the homes of practitioners which are open to the public at certain times of the week, or spaces regularly rented out in other public buildings. Our centres and groups host regular guided meditations and offer explanations about Buddhism and Buddhist meditation by experienced Buddhist practitioners.